Three things are happening on my block this Saturday. So mark your calendar for the afternoon of the 16th August 2014.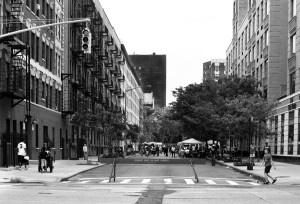 From 12 – The East 100th Street Memories Block Party. The annual bash will happen again and East 100th Street between 1st and 2nd Avenues will be closed to traffic and will be filled with people who used to live on East 100th Street, (they run the event.)
Yep, those children you saw in Bruce Davidson's book, East 100th Street, from the late 1960s, will be here, all grown up! You might bump into some of the people from my book too!
https://www.magnumphotos.com/C.aspx?VP3=SearchResult&ALID=2K7O3R1W4D2W
At the corner of East 100th and 2nd Avenue there will be a street renaming ceremony honoring the Revs. Norm and Peg Eddy. After a 2pm ceremony at the Church of Resurrection on 101st Street, the unveiling of Revs. Norm and Peg Eddy Way will begin at 3pm.
https://www.facebook.com/EHP10029/photos/a.320706881315441.90273.191628410889956/768894926496632/?type=1&theater
Finally, for the whole weekend there will be a pop-up photographic exhibition in the 8 windows of Harlem RBI on East 100th Street.
You may remember Harlem RBI as one of Prince Harry's stops last year! I know them as the baseball field and a great fun and educational opportunity for the local kids. Also they were kind enough to allow me their window space for my photographs. So a big THANKS is due.
The exhibition will be up for the festivities on Saturday and will come down on Monday night and will feature photographs of East 100th Street from yours truly!
Yes, finally! My photographs on East 100th Street are showing on East 100th Street! I will be floating about on the street on the Saturday so come down and say hello and see the photographs and experience the street at the same time!
Hope to see you there.
You can find out more about Harlem RBI's mission here: https://www.harlemrbi.org