Up since the 15th June and on through Saturday 24th June, there's still time to get to Barnsley and see We Are Connected.
The Private view was brilliant and I'd just like to say a great big thanks to all those who came to see the work (and me too), it was lovely to see you all and have you participate in curating the exhibition.
The cohort!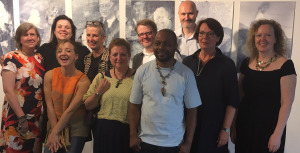 I've been using instagram as a part of the exhibition so please pop over to see what went on…
Instagram link – tanyaphotographsNYC
If you get to the Civic, delve into my archive, held in the boxes in the window, and curate an exhibition of the work that resonates with you. Then instagram it, so we can see your choices!