Not long ago I was wondering about the  fate of this building, on 99th Street, that has been empty for a while. I am  pleased to report that renovation has begun. The building will eventually provide affordable housing for seniors.
I was walking by as the sun rose this morning, so took the opportunity to photograph the building again. You can see the scaffolding that has started to go up and some lights on inside.
The snowplows, attached to loaders and sanitation trucks, are lined up along First Avenue. Hopefully they won't be needed now until next year and are ready to be put away.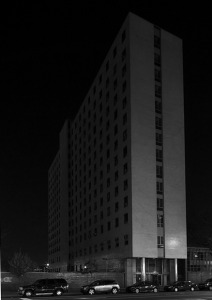 January 2014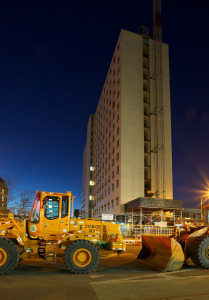 Today, March 2015.
The 2014 International Photography Awards were announced November 2nd 2014, seems I missed the announcement somehow – but better late than never!
My 'Office' Series was awarded an honorable mention in the category of Professional: Architecture, Interiors.
It'll take a bit of scrolling but you can the series here… http://www.photoawards.com/winner/hmention.php?compName=IPA%202014&level=pro
There are some great photographs on that page, but if you don't have time for scrolling here is Office
Also whilst I am at it- here are screen grabs from 2012 that I forgot to add to my blog!
IPA – One Shot. Honourable mentions for Inside, Outside and Inbetween.