I've been thinking about Archive lately and how I might explore it further
I'm very much a believer in serendipity and these thoughts coupled with an essay I am currently reading by A.D. Coleman that coincides with the month of March have set me to collating a set of work from my existing files.
The dictionary term archive is defined as a collection of historical documents or records providing information about a place, institution or group of people. Historical, of course, means belonging to the past.
Therefore any photographs I have taken constitute historical, as the time of recording them has passed. But what of the archive? Is it the same as my oeuvre or body of work?
In his essay, On Redaction. Heaps and Wholes, or, Who empties the Circular File, A.D. Coleman quotes the photographer Lonny Shavels who claims that "Photography is about editing. If you don't edit your work you are not a photographer." (Coleman, 2000)
Exploring the essay's title, Coleman states that "The question of redaction of 'putting in shape for publication' is a crucial one. Redaction is what transforms a quantity of images from a heap to a whole.' (Coleman, 2000)
Coleman summarizes that 'these redacted segments constitute the whole of the photographer's body of work; the rest – no matter how much it may attract us- is merely part of the heap.' (Coleman, 2000)
If I am to put Coleman's words into action I should go through my files and get them ready for (impending or hoped for) publication. Only then will they count as an officially sanctioned body of work.
So, to the heap!
I have previously, partially edited my files. My project Building Character came about from a systematic organization of twenty five years of work relating to my geographical and cultural assimilation of the built environment.
Now entering March, the month has inspired me to think of a new direction. In the USA, UK and Australia March is dedicated as Women's History Month. March 8th, today, is International Women's Day. A global day of recognition and celebration and an official holiday in a further 27 countries.
Although my website currently features many images of the physical structures of the built environment I have many unseen photographs of people.
Unfortunately over the years I have not taken photographs of many of the women I have met and spent time with. I am guilty of taking these women for granted. In effect aping what history has done, looking for the exceptional or unique rather than the backbone, the enduring support from where we all spring.
I still have enough though to make a project. But what of the men? Am I to exclude photographs that feature both men and women? That is surely as much discrimination as if I were not to include women. And what of the historical worth of the women I have photographed. None of them were the first to fly solo across the Atlantic, the first to hold elected office or founded modern nursing. I believe that all women touch the lives of hundreds if not thousands of people during their lifetimes and whilst exceptional women are inspiring, all women are exceptional in their own way. Each woman has her place in history and we should celebrate the worth of all of them. After all not one of us would be here without women.
So I have decided to rethink my approach and look to the photography rather than the gender as I sort through my images this is a project that won't be resolved in March.
I still do want to celebrate women on this day though and remind myself that not all women have equal fortune in life. We should use this day to appreciate the women in our lives and their contribution to their communities before they are no longer with us and fade into history.
I have decided to choose just one photograph to celebrate International Women's Day. The  two criteria I used  were the woman/women were inspiring and that their environment was also shown. So I chose the photograph below. A simple gathering at the family home with multiple generations present. The missing information that I will supply is that three of these women * touched thousands in their jobs as teachers, at schools and colleges. Passing on their knowledge empowered the children and young adults they met and many owe their success at school and into their work lives to the attention and education these women shared with them.
February 1990, Hutton Road.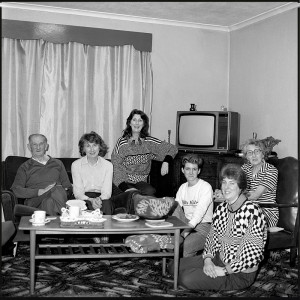 L-R Ted: husband, father, grandfather. (deceased). Teddy*: daughter, sister, mother, aunt, (deceased).  Marlene*: daughter, sister, mother, aunt. (deceased). T: daughter, grand-daughter, cousin, niece. L:  daughter, grand-daughter, cousin, niece. Constance*: wife, mother, grandmother. (deceased).
Reference List
Coleman, A.D., 2000, Depth of Field, Essays on Photography, Mass Media and Lens Culture, University of New Mexico Press, Albuquerque