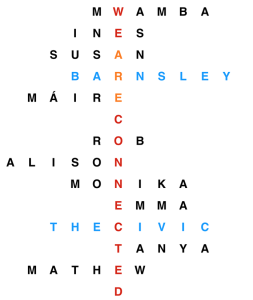 It's been 3 years!
I've been working on an MA in Fine Arts with the Open College of the Arts in the UK and next week is the final exhibition. Being part time over three years meant that it's been impossible to anticipate where I would be at the end of it and it has been a journey that's for sure.
I have met all of the cohort online, there's 10 of us, from 6 countries and we've met via google hangout, sometimes several times a month over the years, but we've never all been on one continent together…
That'll change next week though when we hang the exhibition! Finally we will be connected physically too – the journey has a destination and it's Barnsley!
The exhibition:
We Are Connected – will be at the Civic in Barnsley, UK
Civic link
The private view will be on Wednesday 14th June at 6.30pm – want to come? Just let me know!
I'll be at the gallery also on Thursday 15th, Friday 16th and Saturday 17th, please stop by and say hello!
So what's the exhibition about? Who are the 10 artists?
For more information check out our catalogue
Catalogue link
It's going to be amazing, join us on this journey if you can.
Follow along on my sites:
Facebook
Twitter
and most importantly
instagram…
I'm going to be posting on instagram as part of the exhibition!
Instagram
so please follow me now!
To connect with the other artists and for an ongoing overview of the exhibition check out: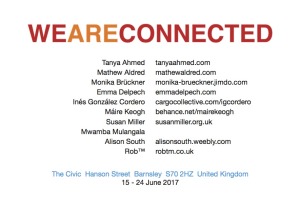 We Are Connected – Facebook
We Are Connected – Twitter
#WAconnected2017
Hope to see you there!