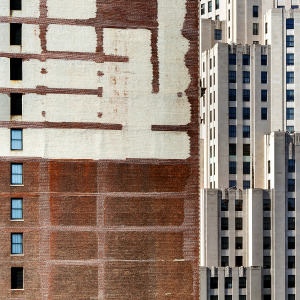 16 new slideshow videos are now up on my website – We are Connected. But first, allow me to tell you how they came about…
Over the last few years I've been thinking about both my archive and how the audience interacts with photography and have had several exhibitions exploring these themes.
In 2015, I, along with 5 other photographers who had attended Berkshire College of Art and Design, held an exhibition at Turbine House, Reading. We presented photographs from 30 years previously and contrasted it with new work. I also took new photographs of the area during community photo walks I organized and at the close of the exhibition we also exhibited the photographs taken by the exhibition visitors.
Exhibition website
Community project (scroll to the bottom and work up!)
In 2016, with a different set of photographers, the photographic collective I belong to, [( 6 )], decided to connect with each other and with place. We met in Oxford, UK, for a weekend of photography. I went with the idea of waiting to see what aspects of Oxford would draw me upon arrival. Our photographs were then displayed at the Riverside Gallery in Oxford, Nova Scotia, Canada. Whilst there I briefly photographed Oxford, Nova Scotia too.
[( 6 )] website
Exhibition website
In 2017, finishing an MA in fine Art, I needed to choose what work I would share for the final exhibition at the Civic in Barnsley, UK, whilst acknowledging it was important to me that the audience would be engaged in the work.
With this exhibition I wanted to take audience participation to a new level and so chose to not hang any of my photographs. Instead I presented boxes containing 16 photo projects from the last three years. These photographs were made in response to reflecting on my existing archive and the continuation of adding to it. A circular route revisiting old haunts, exploring current routes and encountering new places. One journey, ending with this archive, the corroboration of my connection to place.
Gallery visitors walked into a room that contained a table (with a book to write in), a wall with metal strips and magnets and a window where the portfolio boxes were stored across 8 shelves. They were invited to delve into the archive. Handle the photographs. Feel my process unfold and their route through it. Find their visual or personal associations, by shuffling the prints in their boxes, laying them on the table or the floor, mixing one project with another. They completed the journey by curating and hanging the final exhibition as they wanted it. A collaboration between us if you will, connecting through the journey to the final destination.
The visitors shared their process and results with me and other gallery visitors and through writing about their experience and choices and finally photographing their exhibition. Some of these photographs are featured on my instagram page
link to Instagram (scroll to the bottom and work up!)
You can see some of the work and contact details for the other artists in the Exhibition catalogue
These photographs show the gallery space (sans people), visitors sorting through photographs on the table and hanging them on the wall (with the magnets) – more over on instagram, including some of the final curated exhibitions.
The sixteen videos of the photographs in each of the 16 boxes can be seen H E R E
I'd get a drink and a biscuit before you start if you want to see them all!
Thanks for your interest. I'm working on something new for an exhibition coming up in Germany in October so stay tuned for that!