Last year I sent off a postcard of one of my images to the mail art call by Richmond Art Gallery on the theme of memory. You may recall I sent the photograph of the blue room with the red rectangle.
After the postcards had been displayed they were then sent out to other participants in a giant swap. This week I received my swap.
It was a postcard from a photographer called Ronan Considine.
Ronan, was born in Dublin, moved to Canada as a child and currently lives in Vancouver, British Columbia where he works as a travel and landscape photographer.
I asked Ronan about his image…
"That photo was taken when I was traveling over to Asia.  I was flying over northern BC or Alaska.  Im not 100% sure but 1 of the 2.  Just worked out that the sun was setting and the light was just perfect.  The pastel colors and the snow topped mountains were amazing.  And to have a clear airplane window for once was great!"
The first thing that I thought when I received Ronan's postcard was that the blue colour palette matched the photographs I posted last week. My post about cyanotypes and Teddy's curlers. It seemed like destiny for me to receive Ronan's postcard! The second thing was that I wasn't sure if it was a photograph or a painting, the colours were so delicate and pastel. I hadn't seen anything like that before and really had to study it. Remarkable!
The back of the postcard was interesting too, having been in the mail twice, so I include both sides of the postcard below (street addresses removed).
Photograph copyright of Ronan Considine, used with permission.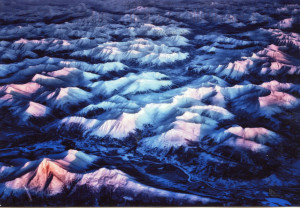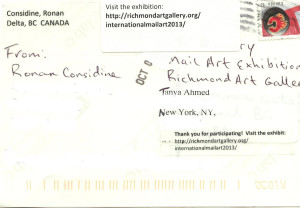 Thinking about Ronan's image brought to mind one from the archive- a view over Afghanistan. Ronan's mountains have a softness that disguises the formidable landscape and presents a beautiful vista. The lovely light, slightly surreal with its pale pink and blue hues, is what transforms his image.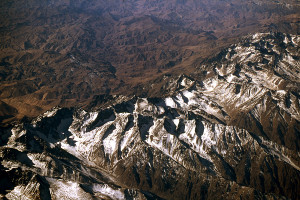 My photograph over Afghanistan is bare and much less romantic. The sunlight catches the near peaks and the sprinkling of snow brightens, but fundamentally doesn't alter, the impression of monotonous brown rock. The terrain is rough and endless. I know people live and travel over this mountainous region of Afghanistan. Maybe they travel over the peaks in Ronan's image too. One image though reminds me of subsistence living and the other of feted explorers. I wonder how my photograph would have looked if I'd flown over at sunset?
All this talk of mountains also made me think about the Sinjar Mountain range in Iraq and the Yazidi refugees, no snow there, temperatures in the 90s, not romantic and not subsistence either, just desperate.
http://mashable.com/2014/08/11/eyewitness-iraq-yazidis-rescue/
It was great to receive Ronan's postcard and discover his work. If you'd like to see more check out these links:
Ronan's website http://www.considinephotography.com
Ronan's facebook https://www.facebook.com/considinephtotgraphy
UPDATE.
I just got an e mail off Kathy Tycholis from the Richmond Art Gallery explaining the process of teh postcard swap…
" I don't think people realize why this "swap" takes me so long when they first submit to the exhibition.  I get a few complaints from people who have to wait too long for their returned cards, but the reason is because  I do try my very best to match people whose works I think speak to each other in some way.  Not everyone may agree with the swaps I choose for them, and it is definitely subjective on my part…but I do try very hard to make sure both artists are happy.  I've done a lot of swapping for shows like this, but having just so many this year was pretty overwhelming.  (and in case you are wondering…yes, it is just me alone that does all this, I don't really trust anyone else to "help" me)
So to hear your feedback is VERY rewarding, makes me feel good…  I think I chose the work based on colour and mood.  Very happy that the works do speak to each other so well.  Thank you for this, really made my day!"
and then I got one off Ronan… I finally found them (postcards) today and to my delight I saw that I got one of yours!! I don't know if they did that on purpose or not but it was a real delight to see you name on one of them, and to tell you the truth by far my favorite one! The photo is titled "Blue Room"  And yes it has a same color pallet as my photo 🙂  I love the red square in it just jumps out with great contrast. Great shot!"
I feel like I have two new friends and photographic colleagues, all from a postcard 🙂