The exhibition is on!
Villa Wieser, Herxheim, Germany
now until the 25th November 2018
Connected
Alison South, Emma Delpech, Ines Gonzalez Cordero, Mathew Aldred, Monika Bruckner, Mwamba Mulangala, RobTM, Susan Miller, Tanya Ahmed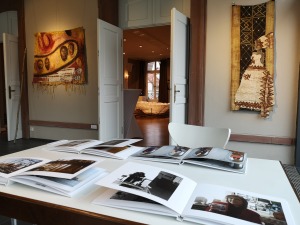 Connected – Foreground- Tanya Ahmed – Background – Mwamba Mulangala – Through the Doors – Monika Bruckner -at Villa Wieser, Herxheim Photo by Emma Delpech
If you can't make it to Herxheim, then here's a bit of an explanation and if you click the link there's a digital view of the work I am showing there:
"Every photograph is a certificate of presence" (Roland Barthes, Camera Lucida). A physical
connection of photographer to subject. Within Tanya Ahmed's 4 volumes of 'Connected'
photographs Tanya looks into the further reaches of photography and how it connects
photographer, subject and audience.
Connected ⅰ
A Circumnavigation of Manhattan in 5 Parts
42 miles – 42 photographs
Tanya Ahmed & Amy Bradley
Feet to earth, a photographic partnership pacing out the perimeter of Manhattan
Using both cell phones and cameras Tanya and Amy connect physically and
photographically to the accessible edge of Manhattan in a 42 mile photowalk
culminating in 42 photographs that explore both place, the comparison of individual
visual interest and partnership in representation. Connected ⅰ
Connected ⅱ
30 Years
Reading – Film camera
New York City – Computer (skype)
Tanya Ahmed
Across time and place through technology spanning 3 decades and 2 continents
Thirty years ago the connection between subject and photographer was undeniably intimate as
both occupied the same physical, private space. Today although Tanya and these subjects
have remained connected over 30 years, their space is more often than not a digital one.
As the technology has changed relationships that may have lost their physical intimacy due to
geographical distance have continued through digital access. A visual and audio intimacy. Not
maybe as satisfying personally, visually or physically but a connection when the geography
won't permit one otherwise. Connected ⅱ
Connected ⅲ
Tanya Ahmed
with
Raymond Aponte
Dewald Botha
Peter Cole
Ines Gonzalez Cordero
Keith Greenough
Beverly Holder
Rob ™
Alison South
Jason White
Beverley Yates
Looking at the work popping into her instagram feed, Tanya began to see elements in her
fellow photographer and artist friends' work that reminded her of specific archived images of
her own.
So what makes the personal connection and the visual connections merge? Is it the
environment, education, culture, the same personal likes, do we influence each other?
Whatever it is we are connected through our gaze. Connected ⅲ
Connected ⅳ
Tanya Ahmed
House Guests
of the exhibition
Reading : A Start & a Return
A Homecoming 30 years in The Making
Turbine House,
Riverside Museum
Blakes Lock, Reading, UK
The exhibition was of work from 5 photographers who knew each other for 30 years and
showed work from the beginning of that time and current work. Returning to the place of their
original meeting the exhibition became a venue for extended talk with visitors of the passing of
in relation to the geographical area and photography itself. Visitors were encourage to talk and
also to add photographs of the area to the exhibition. The visitors Tanya spent a significant
time talking with during the exhibition also became the subject of a concurrent project House
Guests. Photographs produced an audience, who became photographs for a new audience. Connected ⅳ